On my way to a friend I walk by a cute little shop; De Laatste Kruimel (The Last Crumb).
When I tell my die-hard Amsterdam girlfriends about my new find, they say they have never heard of it before eather. Typical case of 'If you don't know it's there, you'll miss it'. And what a shame that would be! For a minute you think you're in Paris.. De Laatste Kruimel feels like a cute little French Bakery, with fun wallpaper and soft jazz music playing in the background. All the menus and cards are handwritten, with cute drawings of baguettes and croissants, all made by the owner.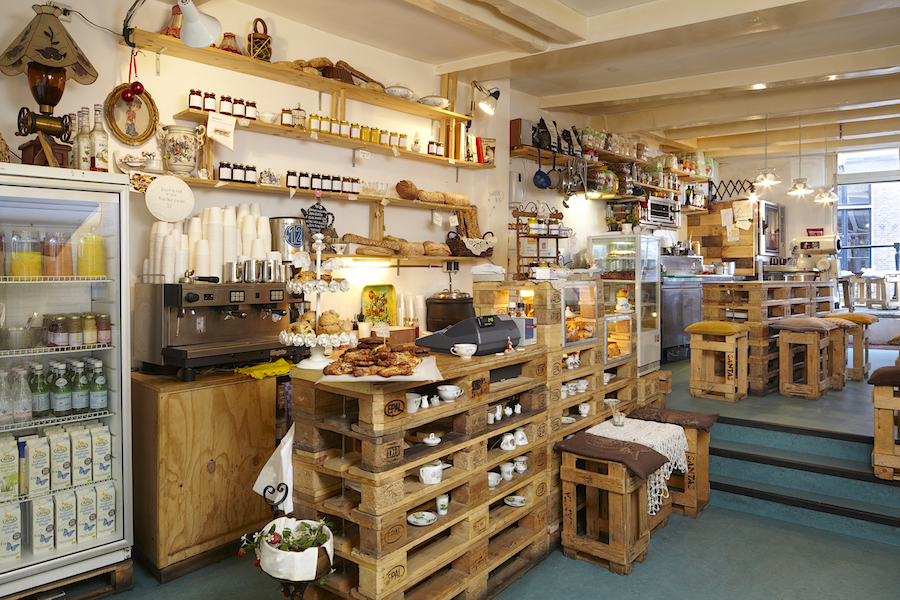 It's a great place for coffee (soymilk available), home-made lemonade (tastes like a mojito!), a high tea with your friends or a great lunch. Everything is organic and home-made; quiches, cakes, foccacia's, scones, brownies etc. I just loooovve their scones with cream and lemon curd (I will run an extra mile a day, just so I can eat these!). Their kitchen is in the middle of the bakery, so your lunch is prepared right in front of you.
It's a small store with just a few tables and a small terrace on the water. Make sure you're on time for lunch, or prepare to wait in line..but the service is very friendly and fast.
I promiss you, you'll eat it all..to the very last crumb.
De Laatste Kruimel, Langebrugsteeg 4 Amsterdam (near Dam Square)