If you follow me on Instagram, you have probably already noticed my love for Ghent… I keep spamming you with shots of the city. I have many more, but it is time for a list of places to visit. We stayed at the perfectly located Guesthouse Chambreplus. These are my 9 favorite restaurants in Ghent!
CLICK HERE FOR RATES AT CHAMBREPLUS
If you speak Dutch and you are reading this blog post in English, just tap the menu button to change the language to Dutch!
This blogpost contains affiliate links, so I earn a small commission when you book through my website, at no extra cost to you! So thank you if you book your accommodation through my website!
1. Publiek | Ham 39
Casual chique, informal and affordable, but including a Michelin star! A 5-course, top-notch dinner is €66. Try some of the dangerous G&T's on the menu…
http://www.publiekgent.be/
2. Volta | Nieuwewandeling 2
Beautiful, quiet location in a park, with friendly service, delicious cocktails, surprising and creative dishes. Book a table outside on a sunny day!
http://www.voltagent.be/
CLICK HERE FOR THE BEST HOTELS IN GHENT
Photos above: Restaurant Volta / Restaurants in Ghent
3. Foodstorms | Sint-Jacobsnieuwstraat 103
Creative owner Kevin Storms is a vegetarian mastermind. We had a delicious lunch at his pop-up restaurant at the Sint-Jacobsnieuwstraat. During the famous "Gentse Feesten" he opened again for a new concept: a Foodstorms Buffet & Go Falafel Yourself Take Away…
http://www.foodstorms.be/
Foodstorms / Restaurants in Ghent
4. Eat Love Pizza | Ajuinlei 10
Crispy, thin pizzas prepared with local products from organic farmers. Psst, in the back of the restaurant you find Eat Love Lasagna. This place for lasagna lovers has an entrance at Onderbergen 25. Love at first bite! Great hangout.
https://eatlove.be/
5. Oak | Hoogstraat 167
One of the culinary highlights of Ghent. You can't order á la carte here, but a 3-course menu is just €35, excl. wine. Top chef Marcelo Ballardin runs te kitchen!
http://www.oakgent.be/
6. Den Baudelo | Bibliotheekstraat 2-10
The Food Hall of Ghent, located in the 16th century Baudelo Chapel. Beautiful space and delicious food. Mexican, Indian, Italian and a whole lot more! Don't forget to the check the stained glass window, with a pretty special image… Opening in September!
Holy Food Market/ Restaurants in Ghent
7. Mémé Gusta | Burgstraat 19
The pure, Flemish kitchen in a beautiful, vintage interior. The finalists of the tv show 'My Pop-Up Restaurant' serve dishes created by their grandmothers. You will find traditional Flemish options like beef stew, 'toetjespap' and 'soezebollekes' on the menu… Yummm!
https://www.meme-gusta.be/
CLICK HERE FOR THE BEST HOTELS IN GHENT
8. De Superette | Guldenspoorstraat 29
This place has already been mentioned in my post about the best brunch spots in Ghent. In 2015 they won the award for best new restaurant concept in Belgium. Top chef Kobe Desramaults is responsible for the unique flavours in the shared dining dishes. Don't expect fancy white table linens, but a relaxed vibe and some hipsters. Definitely one of the best restaurants in Ghent.
http://www.de-superette.be/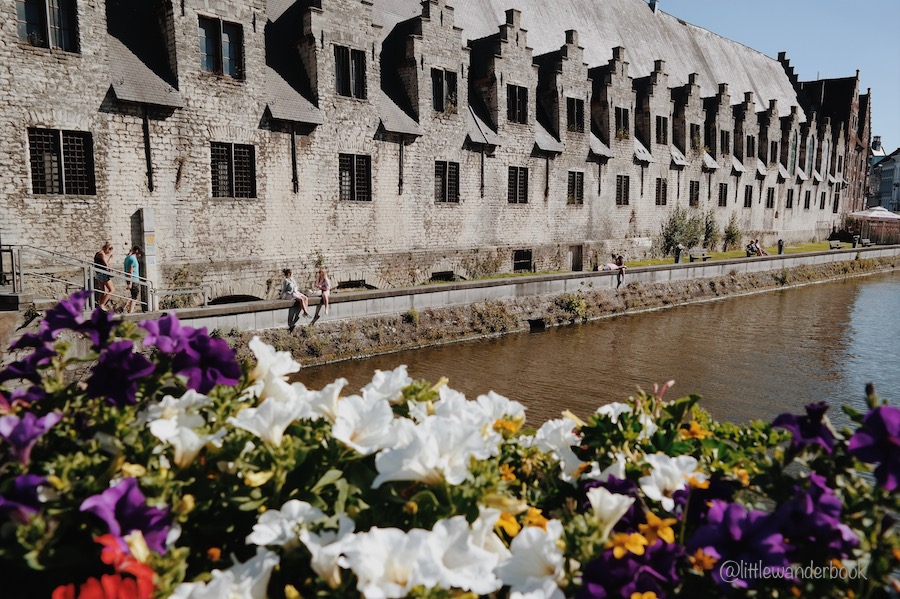 9. Otomat | Kleine Vismarkt 3
Homemade lemonade with special flavours like 'dark caramel sea salt', 'lemon & rose' and over 20 different specialty beers. The delicious, fresh pizzas can be ordered with or without tomato: NOtomat. Dig in with your hands, share your pizzas and catch up with friends in a cosy setting.
http://otomat.be/
---
The city of Ghent supports a lot of environmental friendly initiatives, like 'Het Gentse Restorestje'. This doggy bag is offered to you in over 106 restaurants in the city. Ghent has the highest percentage of vegetarians and vegans in the country. The government supports organisations like EVA. This company offers vegetarian/ vegan workshops and stimulates healthy food in schools. No surprise there are a lot of amazing vegetarian & vegan restaurants in the city!
With the Citycard you have unlimited access to public transport in the city, you can rent a bike for a day for free and it is your entree card to all the top sights & museums in the city. Woop Woop! The city centre is almost entirely pedestrian.
Ghent is an impressive & beautiful city, packed with cultural and historical highlights that can easily be explored by foot. Must visits are: The Adoration of the Mystic Lamb, the Design Museum and theflee market on sunday. Just walk home after after some wine at one of these favorite restaurants in Ghent. The 45 minute free boat trip with your Citycard is also a great idea!