Isla Holbox in Mexico is a tropical paradise where I stayed for a week after my weird days in Tulum. Don't expect a perfectly polished island. Yes, there are white beaches with soft sand, beautiful street art and huge palm trees, but tourism has risen quickly and the streets are bad. After rain some of the streets look like rivers and getting from A to B can be a real expedition! Try to catch a golf cart/taxi after your arrival by ferry, which will take you to your accommodation for 60 to 100 pesos. I decided to walk, but due to the flooded streets I could not get to my hotel and got stuck. A kind Mexican family rescued me and picked me up with their golf cart. These are my Isla Holbox tips for an amazing stay!
If you are Dutch and you are reading this blog post in English, just tap the menu button to change the language to Dutch!
This blog post contains affiliate links, which means I earn a small commission when you book through my website, at no extra cost to you! So thank you if you book through my website!
Isla Holbox – how to get there?
From Chiquila, there's a ferry to Isla Holbox every half hour. It takes about 20 minutes. You can easily buy your ticket at the kiosk in the harbor for 220 pesos. There is also a red "fast ferry", but I bought my tickets for the "normal" ferry.


Hotels and hostels – Isla Holbox tips
Hotel Para Ti: my 'home-away-from-home'! This small, 'adults only' hotel is so incredibly colorful and cozy. Street art, bamboo, a shell as a shower, a nice bed and a lovely pool. I ended my trip here and enjoyed every day.
Tribu Hostel: a great hostel for anyone who doesn't want to stay at a party hostel like Che Hostel. The bar upstairs is beautiful and the cocktails are dangerously good, but things get a little less wild than at Che! Ideal for solo travelers.
Casa las Tortugas is the place to be for those who want to be pampered. To be honest: if I could afford it, I would have stayed here too. What a beautiful place.
CLICK HERE FOR RATES AT HOTEL PARA TI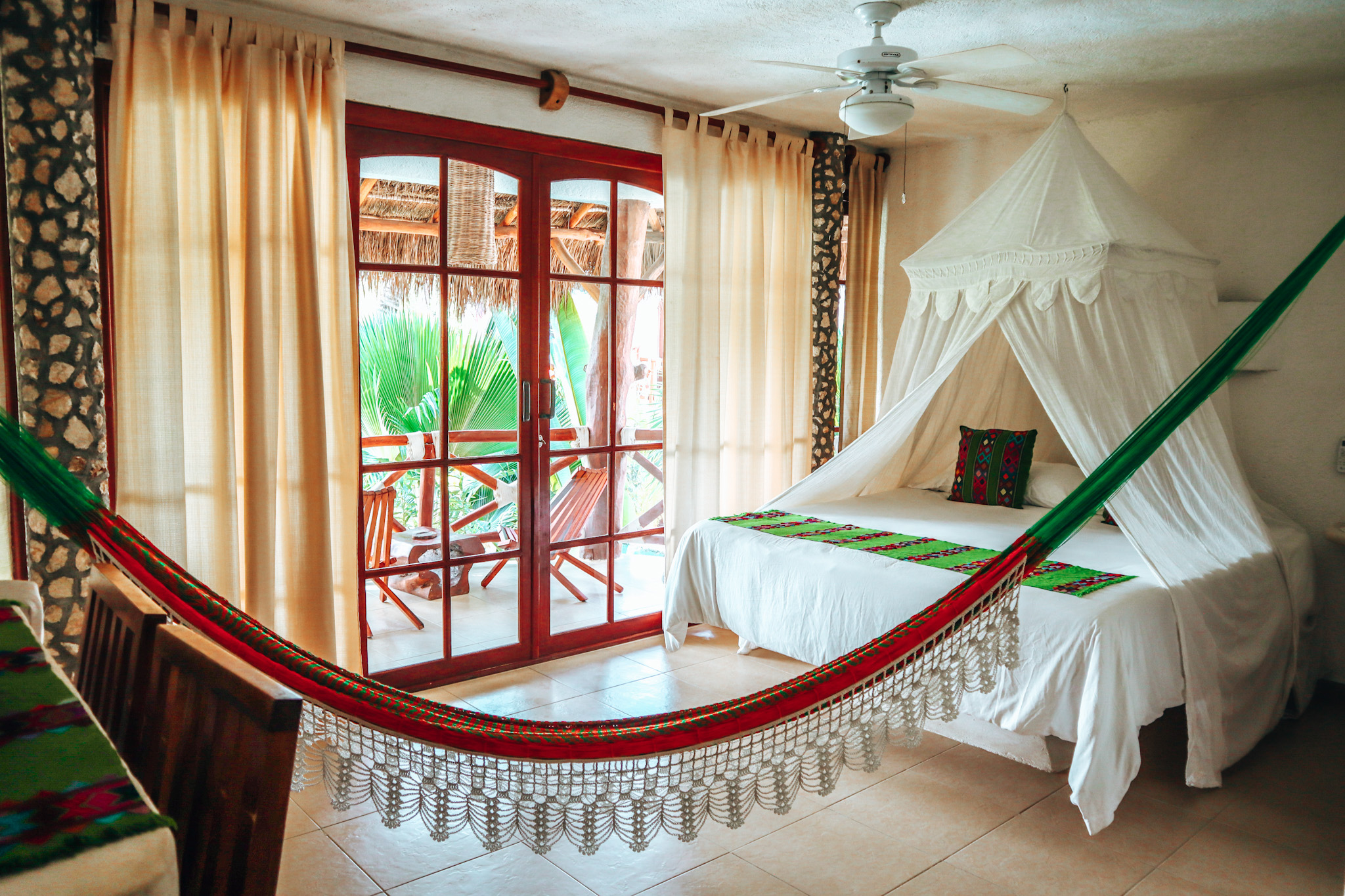 Hotel Para Ti | Isla Holbox tips | Hotels
My favorite restaurants and beach clubs – Isla Holbox tips
Go to Zomay for the sunset! So much better than at Punta Cocos and you can order delicious cocktails while you're watching the sun go down. During the day, if you spend at least 300 pesos on food and drinks, you can use the comfortable daybeds. I would skip Punta Cocos. Because it had been raining it was very difficult for us to get there and the view at Zomay is just as beautiful!
MEXICO: THE BEST RENTAL CAR FOR A ROAD TRIP
La Playa de Ñaña: delicious smoothies, cocktails, food and a super relaxed atmosphere. Don't sit in front of the speakers because the music is, like everywhere else on the island, way too loud…
Painapol: my favorite brunch/lunch spot. Delicious juices, bowls and special, home-made, "infused" water in lots of flavors. You can create your own favorite sandwich on, for example, a focaccia. Fresh and large portions.


Brunch at Painapol | Isla Holbox tips | Restaurants
Roots! I went to Roots 3 times for the insanely delicious pizzas! This romantic courtyard garden full of street art will keep you coming back. Even the wine here is delicious and this is quite unique in Mexico… Order the pizza with blue cheese and portobello! You can create your own unique pizza. In the evening there is live music.
Barba Negra: food market with delicious tacos, sushi, burgers and pizza. Try the gin tonic with cilantro and jalapeño. Well priced and the atmosphere is casual and cozy. Order your drinks from the wait staff and for the food you just walk to your favorite stall, where you pay directly. You get a plate with a number, so they can find you when your meal is ready to be served.


Pizza at Roots and an area at the beautiful Tribu Bar | Isla Holbox tips | Restaurants
Mandarina: restaurant of the beautiful Casa las Tortugas. They have the best iced coffee here! It will cost you 6 euros, but if you want to treat yourself, it is so good!
Amaité: drinks at sunset with your feet in the sand. The cocktails are a little bit sweet, but the atmosphere makes up for that. Just order a Corona!
Mahi: delicious seafood restaurant opposite Hot Corner.
MEXICO: THE BEST RENTAL CAR FOR A ROAD TRIP

Beautiful street art at Isla Holbox! | Things to do
Tribu Hostel Bar: on Saturday nights you can dance here until late. Start the evening during happy hour between 19:00 and 20:00 with gin-tonics for 50 pesos. The cocktails are amazing!
The Hot Corner: famous and infamous. This is the place where everyone ends the night. The band is fantastic and everyone is salsa dancing in the streets.
Salma: the best, creative cocktail bar.
THIS ISLAND IS SIMILAR TO ISLA HOLBOX
The beautiful shop at restaurant Luuma | Isla Holbox tips & things to do
Luuma. This restaurant of hotel Casa las Tortugas is located in a garden and has a store with beautiful clothes. If you can afford them…;-)
Another Clandestino & Clandestino: probably the best coffee on the island. Too bad the wifi is only free to use for half an hour. After that you pay 250 pesos for 2 hours.
CLICK HERE FOR RATES AT HOTEL PARA TI
What to do in Isla Holbox?
Rent a bike (Bikes Holbox) and cycle out of town to the east. There you will find some nice beach bars and you can book a good massage. For a 60 minute massage you pay about 500 pesos per person. You do not need a bike every day. Everything is easily accessible on foot and I felt very safe here. What a difference with Tulum!


Walk a dog from the Refugio Holbox Animal Sanctuary. Because of this organization, you won't see any street dogs on the island. Even raccoons are taken care of. In the morning and early evening volunteers can walk the dogs. During the day this is not possible because of the heat.
Other great ideas for Isla Holbox:
Hike the sandbanks to Punta Mosquito or rent a kayak if the water is too high.
Book a 3-island tour. I didn't try this one myself, but everyone I talked to thought it was a fun day trip.
Go kayaking in the mangroves.
If you're in Isla Holbox between June and mid-September, you can swim with whale sharks!


Flooded roads after some rain | things to do
Extra insider tips for Isla Holbox:
If you want to linger horizontally at a beach club, don't pick a daybed near a speaker. The music is way too loud almost everywhere on the island! So unless you want to put in your festival earplugs, I would suggest you choose wisely….
MEXICO: THE BEST RENTAL CAR FOR A ROAD TRIP
Besides tourists, mosquitoes are also huge fans of Isla Holbox. Take some extra vitamin B1 starting 2 weeks before departure to make your blood a little less attractive and bring some good DEET. Unfortunately dengue fever also occurs in Mexico.
After a storm a lot of seaweed washes ashore and the sea is also less clear. If you are unlucky, the beach can be full of it. The first few days of my trip the beach was pearly white and the water super clear, but the last days I was swimming in seaweed.


For solo travelers, Isla Holbox is not the most ideal destination. I noticed that I was mainly among couples. I still had a great time, but I did sometimes miss other solo travelers. When you stay at a hostel like Tribu Hostel, it is easier to meet other solo travelers, but I like to choose accommodations with a little more comfort and always meet like minded there. This was the first trip that was not that easy. Che Hostel is a party hostel and I would prefer to stay at Tribu.
How to get to Cancun airport from Isla Holbox?
The comfortable ADO bus runs once a day from Chiquila to the airport. In my case it was at 14:00. The ride will cost you 416 pesos and takes 2 hours. The ADO buses almost always arrive on time and are very modern. It can be a bit cold on the bus though, so bring something warm for the transfer!
Another option is booking a 'shared van', also called a colectivo, at one of the travel agencies. These depart from Chiquila at various times. These colectivos often stop along the way and usually take 3.5 hours instead of the indicated 2.5 hours. A colectivo costs about 350 pesos for the trip.
Book your tours at one of these beach huts or in the town center. Prices should be almost the same everywhere.
Cancun Airport can be a bit confusing. There are multiple terminals that you sometimes have to take a bus to, so arrive on time so you have some time to figure out exactly where you need to be. Clumsy as I am, I ended up at the wrong terminal and was glad I still had enough time to take a bus back.
MEXICO: THE BEST RENTAL CAR FOR A ROAD TRIP
Flying to Cancun – Mexico
I like to book my flights through Momondo #nospon, because I think it is the easiest website to compare flights. It is very user friendly and I simply find the best rates here.
FIND THE BEST FLIGHTS TO CANCUN
I flew to Mexico with Aeroméxico! I didn't know this airline yet, but after a little debacle with United Airlines, who claimed that I could transfer in the United States while there was a travel ban, I suddenly had to book a new ticket 6 days before departure. Online I saw that Aeroméxico got great reviews and my experience is also very positive! On the way back I could buy an upgrade to business class for 100 US dollars (83 euros). I immediately booked it! An 11 hour night flight from Mexico City to Amsterdam is so much better with a glass of bubbles, delicious food and sleeping with a pillow and blanket stretched out! And all that for only 83 euros extra. Spoiled for life.
CLICK HERE FOR RATES AT HOTEL PARA TI
READ WHY I DIDN'T LIKE TULUM