Train: Oslo to Bergen. The Bergensbanen is one of the most beautiful train journeys in the world and has been on my bucket list for a long time! When I got the invitation to take the Norway in a Nutshell route, I got so exited! Maybe you have already read my blogposts about my stay in Oslo and beautiful Bergen, but now it is time for an impressive train ride. I boarded the famous Flåmsbana and tried a very special Fjord Safari in Flåm….. read all about my favorite stops, highlights and hotels in this blogpost about the train journey from Oslo to Bergen!
This blogpost contains affiliate links, so I earn a small commission when you book through my website, at no extra cost to you! So thank you if you book your accommodation through my website!
Train Oslo to Bergen | Norway in a Nutshell route
After a wonderful stay in the beautiful Hotel Amerikalinjen in Oslo, my cousin Annemarie and I head to our train. The Central Station in Oslo is huge and has a lot of nice stores and coffee spots. After we score our shots of caffeine, we find our seats on the train.
Myrdal | Train Oslo to Bergen | Norway in a Nutshell route
The Bergensbanen is fully equipped: there is WIFI on board and an extensive menu that takes all allergies into account. They love pickled food and kimchi in Norway. Delicious! The Norwegians take good account of gluten and lactose intolerances. Hotels often even have oat yoghurt. Although you can order food on board of the Bergensbanen, it's smart to bring your own, so you don't depend on the more expensive food on board.
Myrdal station | train Oslo to Bergen | Norway in a Nutshell route
The landscape slowly changes into a white winter scene. It looks like the North Pole! We hop off the train in Myrdal for our transfer to the Flåmsbana. At this station you can buy food and drinks at a cozy cafe. We were afraid we would get off in the middle of nowhere, but the station is populated by hordes of Asian tourists. That old Flåmsbana is no secret anymore.
The famous Flåmsbana | train Oslo to Bergen | Norway in a Nutshell route
This train is very touristy and everyone is trying to get on board as soon as possible to find a seat. It is smart to sit on the left side for the best views. Unfortunately we found out about this, during the trip. It is a beautiful ride! Little villages, huge waterfalls and impressive mountains that are very photogenic because of the autumn colors.
Flåm | train Oslo to Bergen | Norway in a Nutshell route
Flåm is a tiny village and the perfect base to visit the fjords. Especially the Unesco protected Naerøyfjord is a popular attraction. Just after arrival at the Fretheim Hotel, we hoist ourselves in some sort of astronaut suit for a Fjord Safari. When our guide launches us through the fjords like a rocket in a speedboat, I am glad to have the suit to keep me warm.
Fjord Safari | Norway in a Nutshell route
We pass waterfalls, meet seals and even small whales! What an experience! We listen to stories about Vikings and brave some mediocre raindrops. Tip: put on an extra pair of socks for your Fjord Safari and bring a wool cap.
In the evening we warm up with a delicious buffet dinner, including lots of fresh fish, in the warm Fretheim Hotel. My room has a lovely shower. The WIFI and thermostat don't work very well though. Nevertheless, it is a comfortable hotel and the best choice for a stay in Flåm. Click HERE for the best rates and availability of the Fretheim Hotel.
Fjords Cruise Naerøyfjord | train Oslo to Bergen | Norway in a Nutshell route
The next morning we experience the highlight of this trip: a Fjords Cruise with Future of the Fjords. What a wonderful way to wake up. On board we drink coffee with oat milk and enjoy the amazing view. We glide almost silently through the fjords and stop at small villages that can only be reached by boat. I think I took about 250 pictures in 2 hours. Bucket list check! There is WIFI on board and plenty of room to sit.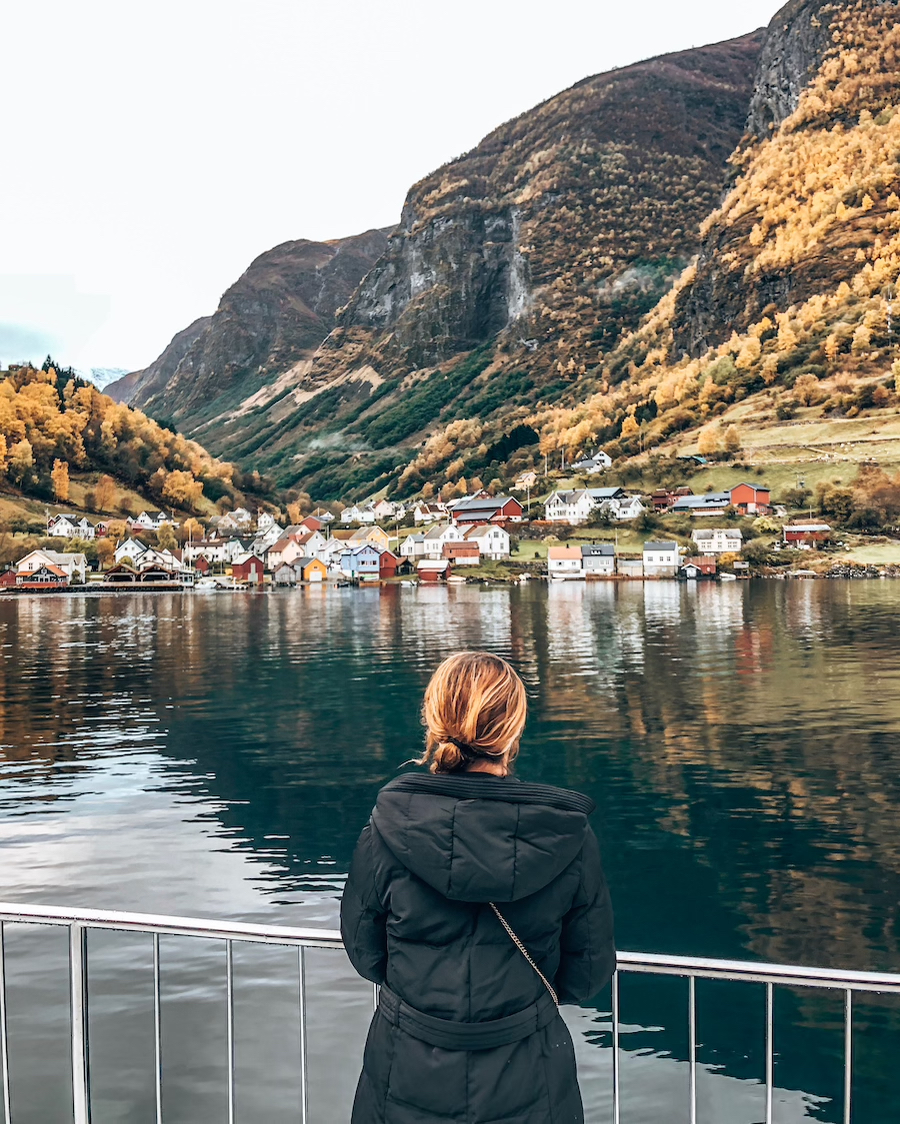 Train Oslo to Bergen | Norway in a Nutshell route
After arrival in Gudvangen we hop on the bus to Voss. The bus ride is also very scenic! In Voss we jump in the train to Bergen. These transfers are all very smooth and the connections are well attuned to each other. At the station in Voss there is not much to do, but before you know it you are comfortably back in the Bergensbanen.
Fjords Cruise | Naerøyfjord
On which side to sit on the Bergenbanen and Flåmsbana?
Bergensbanen: from Oslo to Myrdal on the left side.
From Myrdal to Bergen on the right side.
Flåmsbana: on the left side you have the most beautiful views.
Bergen 
Click HERE for the best rates and availability at the Fretheim Hotel in Flåm.
For more information about the Norway in a Nutshell route click HERE.
More information about the fjords can be found HERE.
Check my Oslo City Guide HERE.
Click HERE for my Bergen City Guide.
Click HERE for my blog post about the most scenic train journeys in the world!