The Lorraine. Honestly, I did not know a lot about this French region in the North of the country, but I like a good Quiche Lorraine! Metz and Nancy are two cities that most Dutch tourists pass on the way to the sunny South of France, during the holidays. But I didn't know they make excellent wine here, celebrate 'Sint Nicolas' just like we do in The Netherlands and that there are delacy stores and pastry shops everywhere…
This blogpost contains affiliate links, so I earn a small commission when you book through my website, at no extra cost to you! So thank you if you book your accommodation through my website!
Metz: sights, highlights & things to do
We start our trip in the city Metz: a beautiful medieval city with big squares and a stunning cathedral, that celebrates its 800th birthday next year. Inside there are unique glass paintings with bright colours by Marc Chagall.
Fox Coffee in Metz / Metz and Nancy
Our fantastic guide Vivienne shows us all the special spots in the city. We discover Patisserie Fresson: the best pastry shop in the city, we drink Mulled wine at one of the many warm Christmas markets, we rise high above the city in a giant ferris wheel and visit the impressive train station and Centre Pompidou. This museum is designed by Japanese architect Shigeru Ban. If you look closely you will see that the roof is like a giant hat, that will give you shelter from the possible rain. Untill April 15 you can visit an interesting exhibition here, called Peindre la Nuit/ Painting the night.
Metz has a scent of Mulled wine and gingerbread in December. It is a beautiful city with a large indoor market close to the cathedral, where you can find all of your favorite delicacies. The foodies in our group buy enough goodies to make it through the winter: delicious cheese and 'morilles': dried mushrooms that cost about 9000 euros per kilo…. You can buy it all here! In every street you find small bakeries, butchers and delicacy store
The indoor market, close to the cathedral in Metz / Metz and Nancy
We stay at the comfortable Hotel de la Cathédral. A cute and comfortable hotel with the best breakfast EVER. The rooms have a lot of different pillows, so you will find the perfect match. CLICK HERE FOR THE BEST RATES
Great restaurants in Metz are Bistrot de G and La Fleure de Ly. Try a dessert with mirabelles: a typical, sweet, small plum from this region.
CLICK HERE FOR THE BEST HOTELS IN METZ
In December you must visit the Trail of Lanterns, with over 400 lanterns! Illustrator Guy Untereiner brings beautiful figures from stories in the Moselle region to life. You feel like you are walking in a fairytale! So romantic!
The streets of Nancy / Metz and Nancy
Nancy: sights, highlights & things to do
Our next stop is Nancy. One of my good friends is a major fan of the city, so my expectations are high! Between 1870 and the First World War a lot of artists and French, who don't want to be part of Germany, move to Nancy. Nancy becomes a very rich city and you can still see that in the stunning architecture. Wow! This city is the perfect mix of the beautiful village in Beauty & the Beast and the grand stature of Paris. You will see a lot of Art Nouveau in this city.
CLICK HERE FOR THE BEST HOTELS IN NANCY
Have dinner at Le Bistroquet! The parents of owner Carine Ponsard, who's also a chef in the restaurant, run a Michelin Star restaurant close to Metz and I believe this place deserves a star as well! It is no surpise that Le Bistroquet is listed in the Michelin Guide. Another great restaurant is Brasserie L'Excelsior, located in an impressive Art Nouveau building. Try the escargots! Yes, snails, yes. I loooove them! Just give it a try!
On the first photo: a dish at Le Bistroquet
At the magestic square Place Stanislas, you can watch a Saint Nicolas light show every night in December. So cool. The French are experts in street theatre. There are fantasy vehicles driving around the square and during the official Saint Nicolas parade, there was a giant dragon, including John Snow (Game of Thrones) leading the festivities. Check my Instagramstories for footage!
We visit Musée des Beaux Arts, where we admire some stunning glassware and we want to jump into one shop after the other during our city walk. Check out the unique vintage shop Le Boudoir des Arts, where you will find Dior and Givenchy treasures. Just like in Metz there are delicacy stores in every street. The French are true gastronomists.
CLICK HERE FOR THE BEST HOTELS IN NANCY
The unique vintage shop Le Boudoir des Arts
I loved the wine tasting at Domain Lelièvre, just outside of Nancy. Two brothers run this vineyard with a lot of love, that you taste in the wine. My personal favorite is the Brut! I bought a bottle for my parents and for myself….
In the Lorraine you will find a lot of special glassware. Glassblowing is a popular craftmanship here. You can try a workshop at the European Centre de Recherches et Formation aux Arts Verriers.
Thionville
If you stop in Thionville on the way back, you must visit Pâtisserie Fisher and have dinner at Les Sommeliers!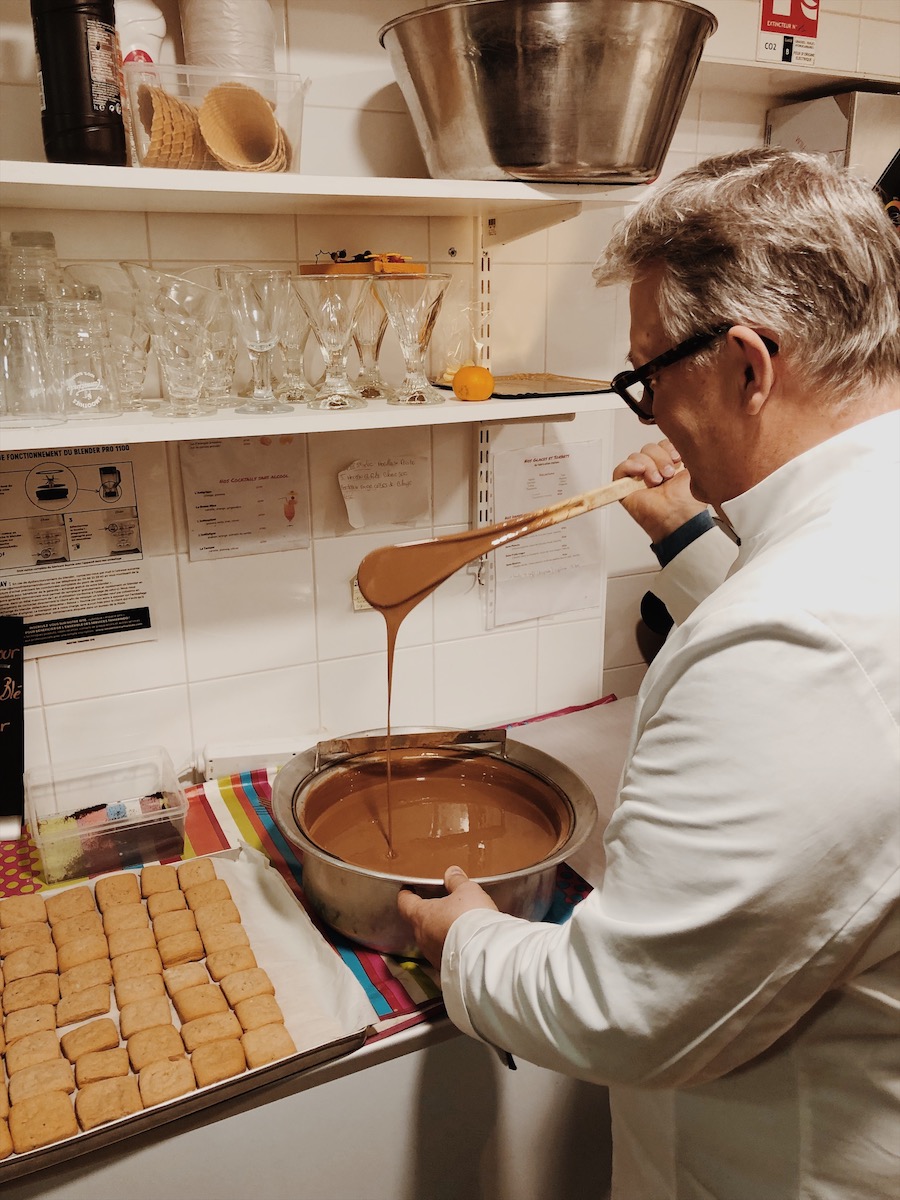 Pâtisserie Fisher in Thionville
Click HERE for the best rates at Hotel de la Cathédral!
CLICK HERE FOR MY PARIS CITY GUIDE
This trip was sponsored by Lorraine Tourism.