When I thought about a holiday to the Dominican Republic, I used to think about white sandy beaches, cocktails, stunning resorts, but most of all: all inclusive holidays. @GoDomRep invited me to come visit the country with Naomi, Lisa and Francisca , to explore the real Dominican Republic. I was so curious to see what this country has to offer. Road trip!
If you are Dutch and you are reading this blog post in English, just tap the menu button to change the language to Dutch!
This blogpost contains affiliate links, so I earn a small commission when you book through my website, at no extra cost to you! So thank you if you book your accommodation through my website!
After a 9 hour flight with Air Europa, we arrive in the sunny Dominican Republic. It is just a 45 minute drive to our first stop: La Romana. We stay at STUNNING Casa de Campo, where we all get our own golf carts for our stay! Casa de Campo is a luxury heaven. The Kardashians enjoyed their holiday here too…
Casa de Campo | Highlights & Hotels Dominican Republic
Casa de Campo has a huge estate of 7,000 acres, 5 swimming pools, a beautiful private beach and a loooot of private villas, rooms and suites. All beautifully decorated. You can understand why you need a golf cart here!
CLICK HERE FOR ROOMS & RATES AT CASA DE CAMPO
Altos de Chavón | Things to do Dominican Republic
On our first night we visit Altos de Chavón: a beautiful re-creation of a 16th century Mediterranean village, on the property of Casa de Campo. When I heard the word 're-creation' I was a little sceptic at first, but this place is so stunning & romantic! We have dinner at restaurant La Cantina, where we enjoy the delicious Mexican food. My favorite is the Chorizo Tortilla! Try the desserts! These are very unique because of the spices. Surprising & yummy!
The next day it is time for a boat trip! We head out to Saona Island, a true paradise! We drink from a coconut, visit colorful houses and shoot photos that look like magazine covers. This is the ultimate paradise! I fly my drone and cannot stop shooting footage here! On our way back the water is so crystal clear and blue, that it looks like it has been Photoshopped….
THE BEST RENTAL CARS FOR YOUR ROAD TRIP
Chic Punta Cana | Hotels Dominican Republic
We arrive at our second stay: Chic Punta Cana, a 5-star 'adults only' resort. When our van pulls up to the front door of a mansion, we are a little confused: "is this the right place?". There are 12 people waiting for us inside to welcome us to our private mansion, including our own swimming pool, jacuzzi, rooms with a bar and we have a butler… It makes me a little bit uncomfortable, but what an experience this is! At night we enjoy an 8-course dinner at the Gastronomy Room at Chic Punta Cana and we watch a spectacular show. We danced the night away after this….
CLICK HERE FOR ROOMS & RATES AT CHIC PUNTA CANA
Hoyo Azul | Highlights Dominican Republic
The Tourism Board made sure to include some amazing activities on the program! We visit Scape Park with the magical Hoyo Azul, we zipline halfway through the country, work on our surfing skills at Macao Surf Camp and go on a nerve racking road trip to the top of Montaña Redonda. To upgrade my adrenaline level even more, I decide to jump on one of the swings on top of the mountain. Whaaaa!
Swing on top of Montaña Redonda | Highlights Dominican Republic
The next highlight is our visit to the authentic city Santo Domingo. We stay in the heart of the colonial town at Hodelpa Nicolás de Ovando. This stylish, historical 5-star boutique hotel is build in 1502 and has been beautifully decorated. Love it all! The colonial town is a Unesco World Heritage Site. We jump on our rental bikes to explore the colorful, photogenic streets. Every 2 seconds one of us stops to take a photo. Don't miss the cute store Desirée Cepeda! At night we enjoy a delicious meal at Pat'e Palo. I loved the Tournedos with truffle!
ROOMS & RATES AT HODELPA NICOLAS DE OVANDO
Santo Domingo | Things to do
After a 3 hour drive we arrive at Samaná: a lucious, green, peninsula in the North East of the Dominican Republic. Here you will find small & authentic boutique hotels and empty beaches. We watch a beautiful sunset, while we enjoy a delicious Coconut Mojito at Las Terrenas. Our stay for the night is The Bannister – Hotel & Yacht Club, with a stunning view over the harbour of Puerto Bahia.
ROOMS & RATES AT THE BANNISTER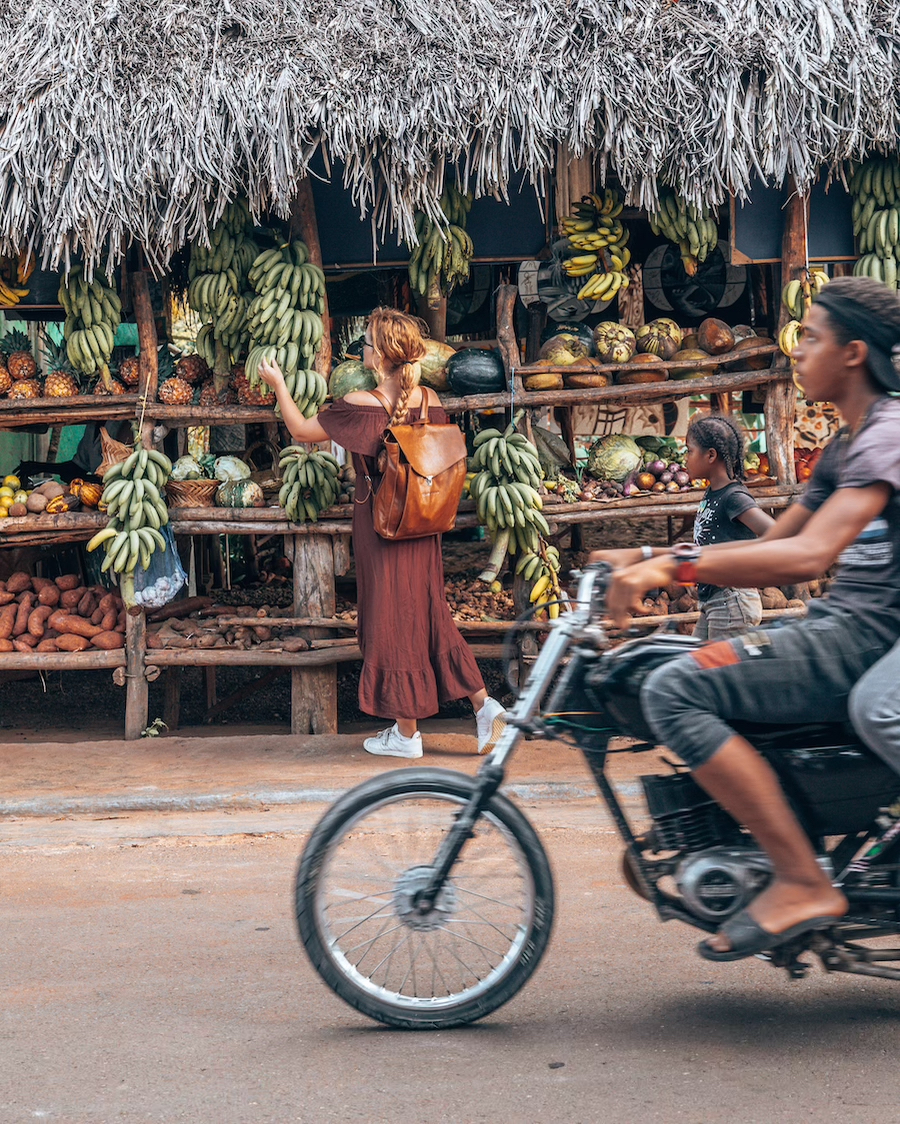 During our stay in Samaná we visit impressive waterfalls at Cascade Limon and the unspoiled beach of Playa Rincon. Check out my drone shot above! We have a 'local's lunch' at restaurant Luis, on the beach of Playa Coson. SO GOOD!!! On the menu is the catch of the day or chicken. I tried the octopus, with fried green banana, rice and beans. A typical local's lunch here. The flavour of the octopus is absolutely delicious. They serve the best Pina Coladas that I tried during this trip here!
THE BEST RENTAL CARS FOR YOUR ROAD TRIP
The Bannister – Hotel & Yacht Club | Hotels
My conclusion? The Dominican Republic has something to offer for everyone! If you like adventure, if you prefer a luxury stay, if you love culinary highlights or prefer local food; you can have it all here. I am blown away by the stunning nature, the delicious food, the friendly people and the dangerously good Pina Coladas….
MY ARUBA HIGHLIGHTS & RECOMMENDATIONS
I expected to see a lot of poverty, but despite the fact that the Dominican Republic is a poor country, we didn't notice a lot of this. The only thing that I found a little disturbing were the extremely flirtatious men… But that did not affect this trip to paradise too much. Samaná and Santo Domingo were my favorite destinations. I would love to go back some day, because there is still so much more to explore!
DOMINICAN REPUBLIC: THE BEST RENTAL CARS
MY ROAD TRIP IN COSTA RICA
CLICK HERE FOR MY FAVORITE HOTELS IN BELIZE