In my previous post I wrote about how our surprise trip to Nerja with Srprs.me begun. Zero control, raging OCD and a scratch card in an unopened envelope that was whispering my name, like a bottle of ice cold gin to a dried out alcoholic…
But, we have arrived in Nerja! This old fisherman's town is just a 40 minute drive from Malaga and located at the south coast of Spain: the Costa del Sol, amigos. My friend and owner of the beautiful brand Bobby Rose Jewelry: Sousha and I visited this small town, with stunning beaches, in the peak of the tourist season. We made it our mission to find unique spots and avoid most of the sweaty, lobster coloured tourists here. And I believe we succeeded. These are our favorite discoveries in Nerja!
El Pulguilla
Restaurants
Sollun: a true hidden gem. You think you walk into a simple shopping mall, but in the back you find restaurant Sollun. Don't let the interior fool you, we hesitated too for a minute. The chef is one of the best in Nerja and will personally advice you at your table. Unique dishes full of flavour and delicious wine!
Sollun
El Pulguilla: This fish restaurant is a local favorite and we understand why. You walk into a simple café, but in the back you find a large outdoor space with fans, woohoo! Bye bye sweaty face! This place is fish lover heaven with divine, fresh options on the menu. Like my favorite: anchovy in vinegar with olives! Not fancy at all, but oh so good! It was our favorite spot for lunch and we kept coming back for more. I start drewling a little now I write about it. Try the pulpo from the grill and the large scallop! Yummm!
El Pulguilla
Oliva: one of the best restaurants for fine cuisine in Nerja, with a Dutch owner. Every plate is a piece of art and the flavours are special. The chef is taking risks and is very creative. I loved the tuna appetizer, see photo below, and the orange custard, with green mint cake and meringue. Click HERE for more information about the menu.
Oliva
Bakus: this restaurant has a stunning location, including seaview. And again: don't let the interior fool you. It is a little too modern and clean, but the staff is extremely friendly and the dishes are absolutely delicious. Try the scallops with asparagus and the Instagrammable Pavlova!
View from Restaurant Bakus
Casa Manuela: on our first day we stumbled upon this cute little store by accident. We came back every day after that. Choose a couple of your favorite fresh veggies & fruits in the counter and Manuela will make you a damn good shake. A great vitamin booster! I'm a big fan of curcuma & ginger. You can buy a lot of unique local products in the store too, like special honey, delicious ham, soft cheeses and organic wine. This spot is a popular place for locals, who buy afternoon sandwiches with Ibérico ham, olive oil and tomato. Yumm!
Zaza: tender roast chicken and Belgian fries in a hidden little restaurant, with a petite terrace. You can smell the delicious chicken from far away, so no wonder this place is always packed with locals. You can also order your chicken to go!
Beaches
Playa Carabeo: small and beautiful beach. Our favorite hangout. This is where we took Flammy, our inflatable flamingo every day, for some vitamin sea. Simply because it is the most relaxed, beautiful beach! Don't tell anybody;-) Keep in mind that there are no facilities here, so bring enough water and a parasol.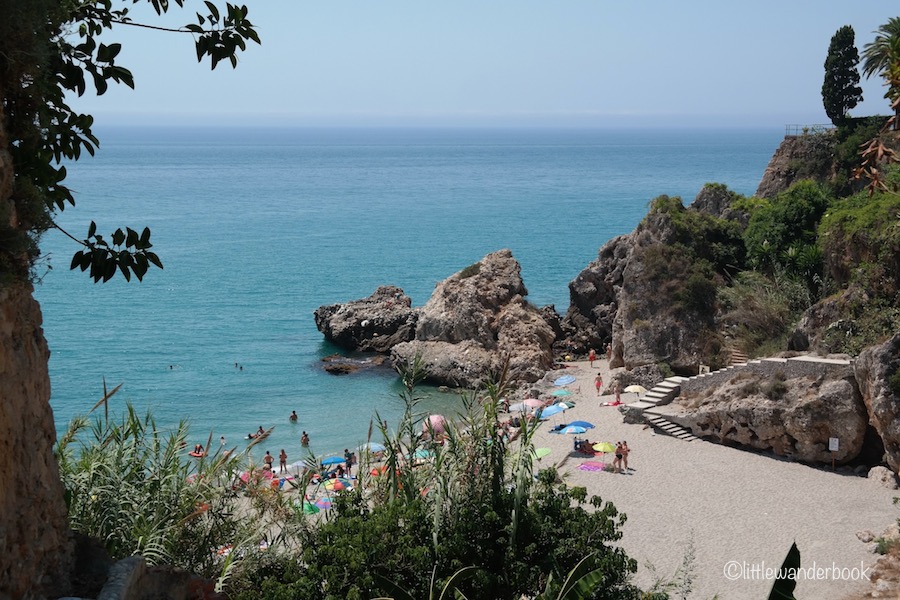 Playa Carabeo
Playa Burriana: the biggest and most well known beach in Nerja. This beach offers comfortable daybeds for just a couple of euros a day. There are a lot of, touristy, eating options and you will find an ice cream shop on almost every corner. Order a cold glass of wine, sit back and relax!
The beaches of Maro are very beautiful too. Book a kayak trip to see the waterfalls and hiddes bays from the ocean.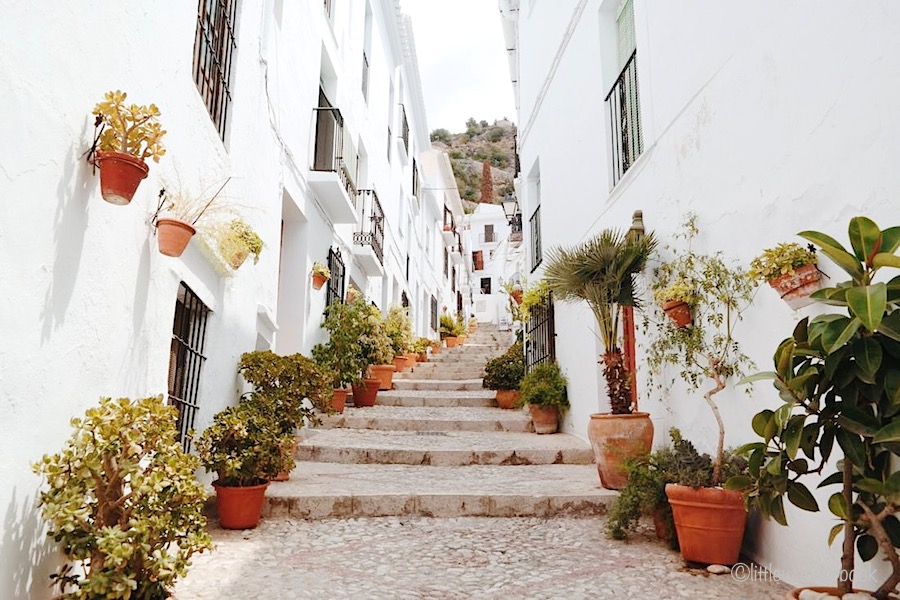 Frigiliana
To do
Frigiliana: this picturesque, small, white town is located just a couple of kilometres from Nerja. You may have seen some photos on my Instagram already. We took a taxi and payed 14 euros for one way. You have to be fit to climb the many steps in this village that is build up a hill. Sweat moustache guaranteed. Visit the authentic galleries and shops and have lunch on the terrace of Virtudes! This town is dangerous for your bank account, so be prepared…
The Caves of Nerja: unfortunately we didn't have enough time to visit them, but they are impressive. So special, that they are ranked in the top 5 of must-see sights in Andalucia. Every July there is a music festival inside the caves.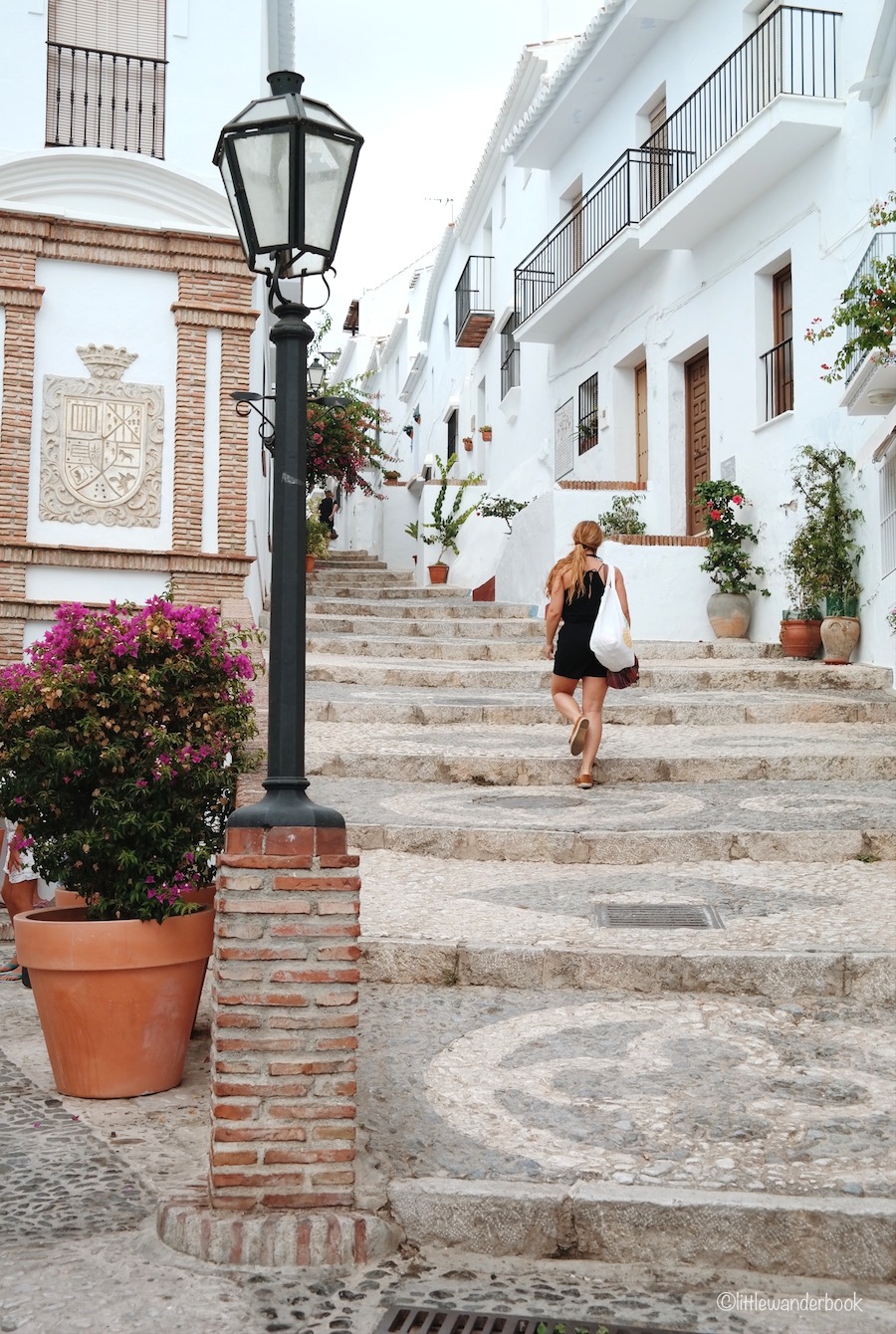 Frigiliana
View from Balcon de Europa: hard to miss when you walk through Nerja's city centre. From this balcony, 23 metres above sea level, you have a stunning view over the beaches and mountains. The adjacent beach Playa Calahonda is the most photographed beach in Spain. Keep that in mind, before you flote away on your inflatable pineapple, topless…
Malaga and Granada: these 2 beautiful, old cities are just half an hour to an hour away and are definitely worth a visit!
Hotel
We stayed at the comfortable and modern MB Boutique Hotel, booked by Srprs.me. Our room was fully equipped. We had the luxury of a rain shower, a bathtub, airconditioning and an amazing rooftop terrace with 2 hot tubs!
Skip
Paëlla at Ayo. This place is supposed to be famous for delicious paëlla, but to us it was a huge all-you-can-eat restaurant, packed with tourists, sweating on plastic chairs and the paëlla was nothing special.. It is a cheap lunch though.
---
Interested in a suprise trip like this? Click HERE for more information about Srprs.me!
Click HERE for my previous post about how to prepare for a surprise trip. We had no idea we were going to Nerja!