The ATM (Actun Tunichil Muknal) cave is one of the main highlights in Belize and an absolute must visit. You have to be in good shape for this tour though! If you are claustrophobic, or still sleep with a nighlight, this may not be the tour for you.. It is an expedition into the deep, dark Mayan underworld. This sacred site contains lots of Mayan artifacts & skeletons. I decide to book my adventure with Pacz Tours, because of their great reviews, and prepare myself for my visit to this mysterious cave, by reading some experiences from other travellers. One thing is for sure: this is going to be one of the most adventurous, intense tours of my life…
If you are Dutch and you are reading this blog post in English, just tap the menu button to change the language to Dutch!
This blogpost contains affiliate links, so I earn a small commission when you book through my website, at no extra cost to you! So thank you if you book your accommodation through my website!
Photo credits: archive Pacz Tours | ATM cave
The ATM tour starts with a 45 minute hike through the jungle. We cross 3 rivers swimming, pulling ourselfs through the stream with a rope; the water level is pretty high, and we arrive completely soaked at the entrance of the cave. It is quite a bizar experience to be swimming with all my clothes on, including my shoes! We put our helmets on, switch on the headlights and swim into the darkness… The real adventure has just begun. In the next 3 hours we climb over rocks, swim in big open areas and push ourselves through narrow passes: one of them has the name 'head lock'.. you can understand why. Below this post you will find a packing list for the day, including my recommended footwear!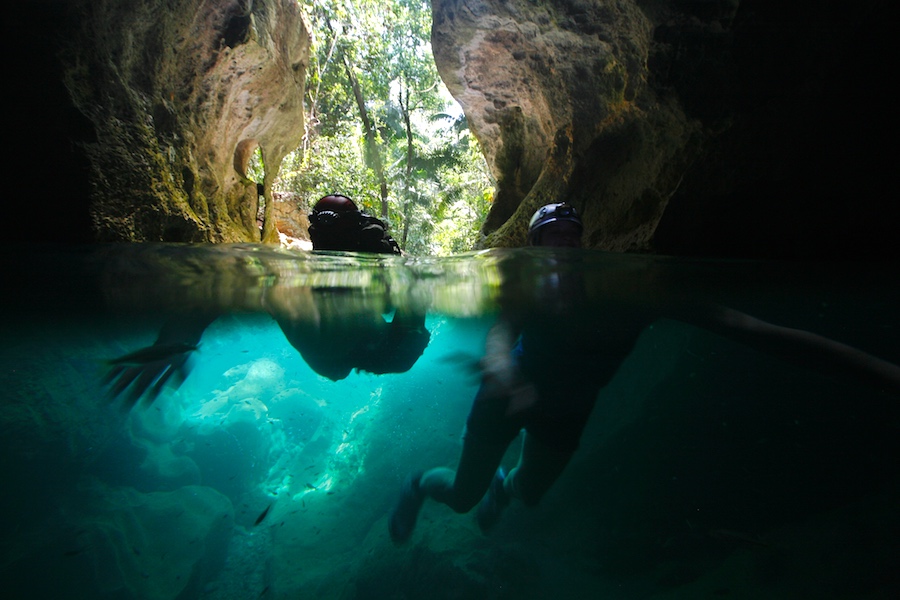 The only light to guide our way, is from our headlights and when Oscar, the guide, askes us to switch them off, we experience darkness like we never have before. I can not even see my hand in front of my face! The desperate Mayans headed deep into the cave to bring their sacrifices to the rain god Chac. During this tour we are walking in their foot steps. It is hard to imagine they were able to travel this far into darkness without any artificial light!
BELIZE: MY FAVORITE RENTAL CARS
The Crystal Maiden | ATM cave Belize
They Mayans had a big problem with overpopulatian in their time. For the big cities they were building, they had to cut down a lot of trees, and because of that, the climate started to change. There were long periods of droughts and they became more and more desperate in their sacrifices to rain god Chac. They started sacrificing humans. You will find a lot of evidence of those sacrifices in the ATM cave. Be carefull where you put your feet, because the only thing that seperates you from the skulls & artifacts is a thin line of red tape..
MY 3 DAY SAILING TRIP FROM CAYE CAULKER
Highlights Belize | things to do | ATM cave
This tour is an experience I will never EVER forget. Although I tested my limits, I am a little claustrophobic, I am so happy that I booked the tour! It is definitely NO PIECE OF CAKE! You will do things you never thought you were capable of doing. There is climbing involved, there is no safety equipment, apart from the first aid kit the guide has and the only way back, is the same way you came in… You will want a drink when you see daylight again… trust me. I loved Pacz Tours. They have very knowledgeable guides and are the best out there!
MY STAY IN HOPKINS AND PLACENCIA
Packing List: good shoes with closed toes (you will bump your toes under water, THESE are the shoes I recommend and everyone was wearing), shorts and a t-shirt (it is a sacred site), a set of dry clothes/ shoes, a simple, small water bottle, a towel & flip flops for the showers. You can leave your Deet in the car. During the river crossings you will wash everything off anyway. Cameras are not allowed anymore during this tour, because some tourists dropped their equipment on the skulls…
CLICK HERE FOR MY VISIT TO AMBERGRIS CAYE
STAYING IN A TREETOP HOTEL IN BELIZE
THESE ARE THE BEST SHOES

. You will love them for cave tubing too. I wish I would have known about these before the tour. I wore my sneakers and they were a little uncomfortable because they were competely soaked the whole time!
Click

HERE

for more information about the ATM tour at Pacz Tours.
Check my first post about Cayo District

HERE

.
Click

HERE

for the best flights to Belize
Buy your Lonely Planet for Belize HERE.
Photo credits: Pacz Tours