If you follow me on Instagram you have probably noticed me raving about this place several times already… In the 2.5 weeks I spent in Sri Lanka, Dots Bay House was my ultimate 'home away from home'. I LOVED it here! I met so many new friends and I loved surfing in Hiriketiya. It was a highlight of my solo trip.
If you are Dutch and you are reading this blog post in English, just tap the menu button to change the language to Dutch!
This blogpost contains affiliate links, so I earn a small commission when you book through my website, at no extra cost to you. So thank you if you book your accommodation through my website!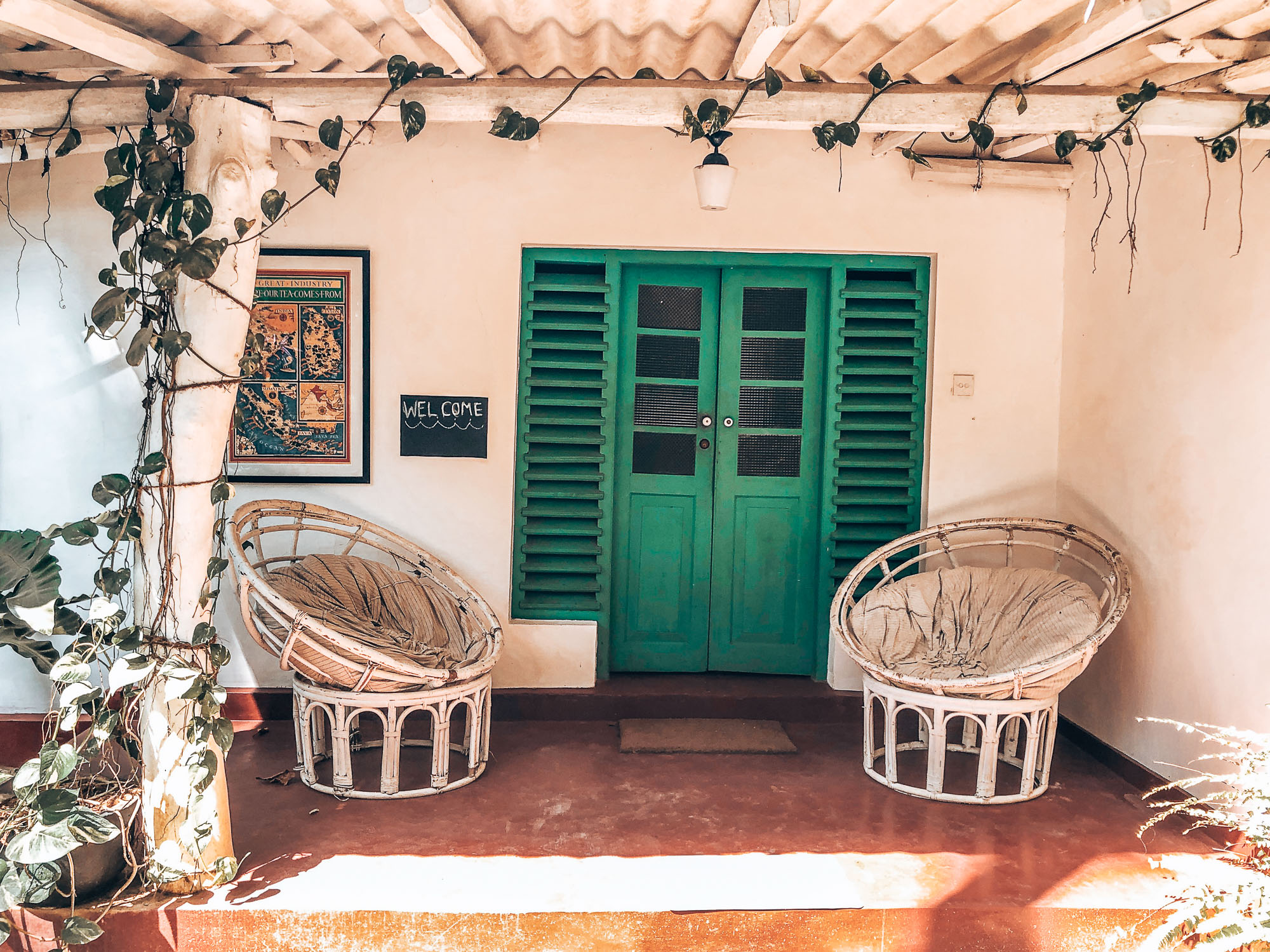 Dots Bay House, Hiriketiya
Maybe I shouldn't be writing this blog post because the small bay of Hiriketiya has to stay as it is now: not too crowded by hordes of tourists. But anyway, I have a sick need to share travel tips, hence this website, so here we go….
Dots Bay House, Hiriketiya – hostels & hotels in Sri Lanka
Dots Bay House is one of the few places here run by locals. The friendly owner Nawodh was born and raised in Colombo and has put together a really great team. Besides Dots Bay House he also runs Boho, Surf Café and the lovely Tonic Spa in Hiriketiya. It is hard to believe that Dots Bay House was only built 4 years ago!
My room | Dots Bay House, Hiriketiya | hostels & hotels in Sri Lanka
The atmosphere here is unique. There is a swimming pool where you can have lunch every day with traditional Sri Lankan curries. A couple of nights a week there are performances by professional singer songwriters. Every night at 23:00 it is quiet on the grounds so you can sleep well. In the weekend there's music until 00:00. Loved the social vibe at Dots.


Delicious Breakfast!
In the morning I enjoyed breakfast with my laptop working on one of the comfortable cushions in front of a fan. Sometimes Trigger accompanied me, one of the cute dogs here.
The food is so good! Sometimes you have to wait a little while for your order, but it's totally worth it! Try the waffles with curd and sweet and sour apples for breakfast, the iced coffee with coconut and the 'passion fruit lemonade'. In the evening you have to try the Mahu Mahu fish burger with kimchi! Owner Nawodh is closely involved in creating the menu and it is regularly updated. The Black Angus Burger is another showstopper!
In the morning at 08:00 and in the afternoon at 16:00 you can participate in yoga classes. On the blackboard at the bar you can see what classes are planned for the day. For a lesson you pay, I believe, 1000 LKR when you stay at Dots and 1500 LKR when you stay somewhere else. Surfboards are free to use when you stay here! Hiriketiya is an ideal surfspot for all levels.
The swimming pool at Dots | hostels & hotels in Sri Lanka
Dots Bay House takes sustainability very much into account. For example, you can have your bottle of water refilled free of charge and no plastic straws are used! The app Refill my Bottle is a great app for when you're traveling. It shows you where the free refills are and saves a lot of new plastic bottles. Next year Nawodh wants to start using solar panels.


My private room is super cosy and even though I don't have air conditioning, I don't miss it at night. It cools down nicely and that's fine with a fan! I always bring some incense from home against mosquitoes. Although that is not necessary at Dots Bay House, because they put incense in front of your door every night. The shower is nice and warm and there is enough space for your luggage. If you want to sleep in the dorm room, it still feels like you have a little room for yourself, because the beds are furnished like small studios, giving you a lot of privacy.
The Tonic Spa is definitely worth a visit! I had a lovely 'Ayurveda back massage' here! If you book a full body massage, ask for a masseur of the same sex, because your front/ torso will be massaged as well.
Dikwella beach – Hiriketiya
With pain in my heart I travelled on, knowing that it would probably not get any better than here. Nawodh makes everyone feel welcome at Dots. I saw him talking to new people every night. It feels like you become part of the Dots family! I've decided to go back next year and stay a bit longer! See you at Dots:-)
Keep an eye on the website for even more Sri Lanka tips & highlights! In the upcoming weeks I will share all my favorite stops, hotels & hostels here!
Click HERE for the best rates and availability at Dots Bay House!
Read my blogpost about Hiriketiya HERE!