My start in Sri Lanka is a bit hysterical. At the airport of Colombo my pickup doesn't show up, causing my already present sweat moustache (I'm travelling alone again) to grow into a full body sweat attack. The driver who finally picks me up is constantly on his phone and has a driving style of an average roller coaster. After 2,5 hours of driving with sloshing armpits, I arrive with a heartfelt 'Hallelujah' at my hotel in Kandy. These are my favourite sights, highlights and tips!
This blogpost contains affiliate links, so I earn a small commission when you book through my website, at no extra cost to you! So thank you if you book your accommodation through my website!
Walk along the lake in Kandy – highlights & tips
If you are looking for a good driver or pickup from the airport, call or app Shehan Croos. The best driver I have met on my trip. If only I knew that when I was at Colombo Airport. His number and details are at the bottom of this blog post.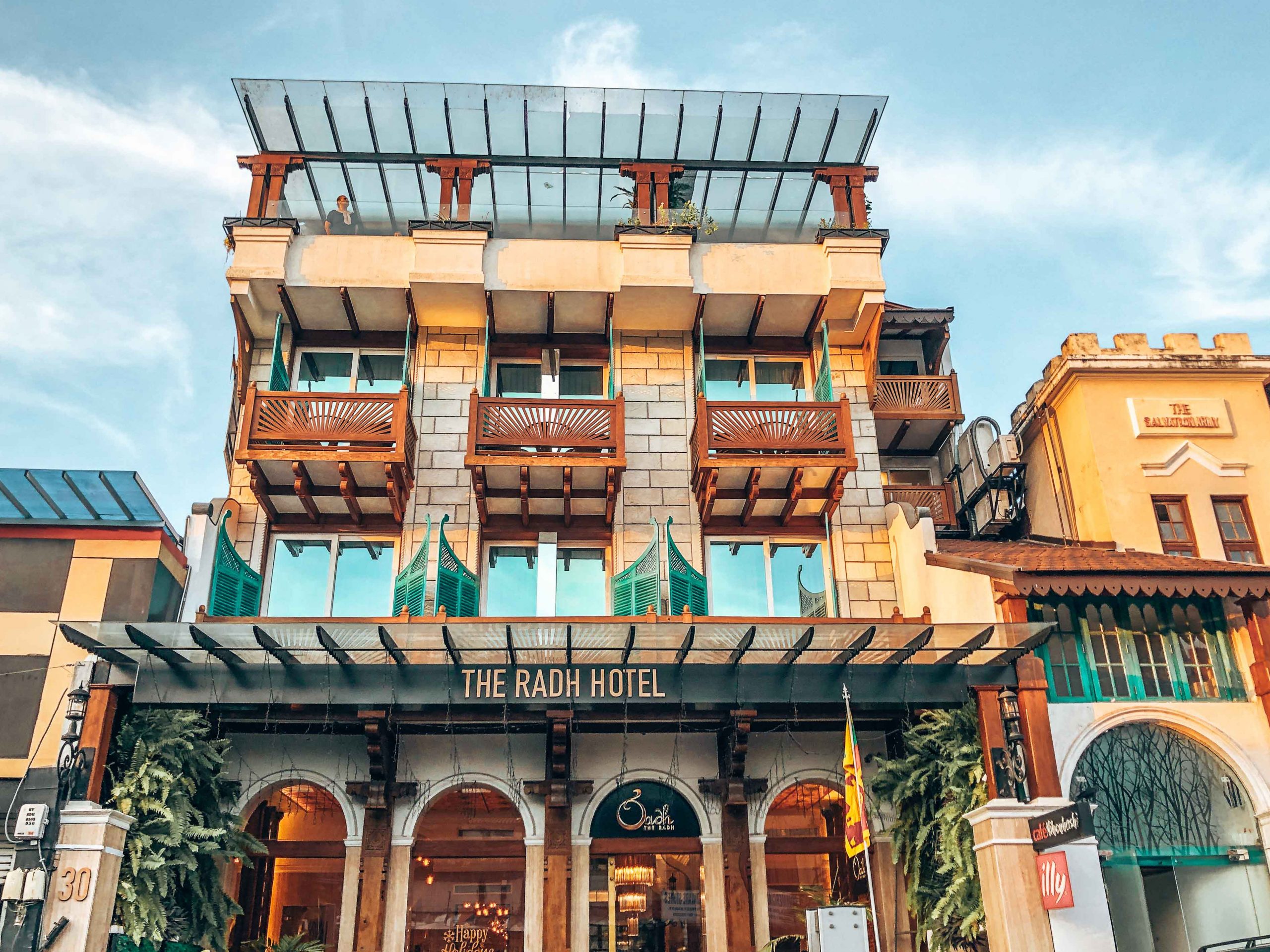 My home for the first 2 nights in Sri Lanka is The Radh Hotel. A fairly new and beautiful hotel! What a friendly welcome. I get a soft, moist towel to freshen up and a glass of 'king coconut' with lime and local sweets with coconut. My room is amazing! I have a huge rain shower, a JBL box, a kettle, delicious tea, a soft bathrobe, complimentary snacks and an huuuge and soft bed that screams my name! On the cushions the words 'soft pillow' and 'hard pillow' are embroidered. Love it! Totally jetlag proof…
CLICK HERE FOR RATES AT THE RADH HOTEL
This blogpost contains affiliate links, so I earn a small commission when you book through my website, at no extra cost to you. So thank you if you book your accommodation through my website!


After a little powernap I head out for some food at Café Secret Alley. I really like the Iced Coco Latte and my sandwich with avocado. There is wifi and this seems like a great place to work!


Café Secret Alley – highlights & tips Kandy
The next morning I have a typical Sri Lankan breakfast at The Radh Hotel; with pittu, dahl, coconut sambol and lots of fruit. Soursop juice! It looks a bit strange, but it is so delicious! A hopper is a typical breakfast here: a thin pancake made with rice flour and coconut milk. I try the option with an egg in it! The best way to eat your hopper is with some dahl and sambol. This was the best hopper I had during my stay in Sri Lanka!
Crossing the street can be a bit tricky in Kandy.
After breakfast I leave The Radh at 09:00 to visit the famous Temple of the Tooth, just a 4 minute walk from the hotel. There is a ceremony here at 09:30 (Tevava). After making my way thorugh the security scanner and putting my shoes on the right side of the temple, I buy an offer (flower) for 100 LKR and join the huge queue to see the famous tooth. It is a hustle and bustle. Left and right I receive blessings, women are breastfeeding on the ground.
CLICK HERE FOR MY TRAIN RIDE TO ELLA


The famous Temple of the Tooth – Sights
This place moves me, and I can't explain why exactly. Maybe it's because a collective faith is centered on this sacred place, which makes you feel so much love. The people are so friendly and welcoming here! If you are up for the challenge as well, don't forget to look inside at the 'moment suprême'! Don't let yourself be pushed ahead to fast! If you are prone to claustrophobia, this may not be the best place for you. Bring a small towel to dry your feet after your visit, in case it starts to rain. I arrived back at my flip-flops looking like a little troll with muddy feet. Dress appropriately for your visit to this temple. Cover your legs and shoulders.
CLICK HERE FOR MY ELLA HIGHLIGHTS


After my visit to the temple I head to Chai for a delicious chai tea. Heartwarming, but very sweet! Ask if you can get the sugar on the side, otherwise you can almost feel your teeth falling out after your first sip. The have all kinds of chai here, like Masala Chai. Loved it!
Chai tea at Chai.
For a healthy lunch I decide to go to Café Banana Chill. On my way I see schoolgirls and people jumping in and out of a moving bus. Apparently this is normal here… Café Banana Chill turns out to be a very small cafe with a very friendly owner. He makes a very nice tropical smoothie bowl for me. The avocado coffee with little chunks is not a huge success, but there is wifi and the bowl is delicious. I feel fine despite the jetlag!
CLICK HERE FOR GREAT HOTELS IN KANDY
Café Banana Chill
Before I left home I was warned by people that Sri Lanka can be quite unfriendly to women, but I feel fine here. The people are so friendly and the question 'can I help you?' is sincere. Because of Buddhism the Sri Lankan believe in karma. Who does well, meets well. Of course, you have to use your common sense, like you would at home. Men flirt a little, but in a sympathetic way. Just smile back and be open.
Special Ayurveda treatment at Green Chaya, Kandy
It rains all day and I walk around in a white t-shirt so it is time to go back to The Radh. I book an Ayurveda massage at Green Chaya. I'm not going to walk through the Botanical Gardens in this monsoon for fun. We have enough rain back home in Amsterdam haha.
What an AMAZING treatment! You have to go here when you're in Kandy! For 30 euros you're in for 2 hours, get a full body massage, go into a special sauna and enjoy a wonderful facial. The water in the sauna contains 13 different herbs. I think this is the best wellness treatment I've ever had. An Ayurveda massage is different from a deeptissue massage, but you can choose between soft, medium and firm. The herbal tea afterwards is incredibly tasty. Lovely incense burn everywhere. A tuktuk will pick you up and bring you back to your accommodation in Kandy for free. HIGHLY RECOMMENDED! When you book a 'full body massage' always ask for a masseur of the same sex, because your front/ torso will also be massaged and this can feel uncomfortable otherwise…
Entrance to the Temple of the Tooth – Sights
The Radh Hotel is an ideal hotel to start your journey. The location is perfect, the breakfast is delicious and the room is super comfortable! It is nice to have some luxury after such a long flight. I think two nights in Kandy are enough. Visit the Temple of the Tooth, the Botanical Gardens, book a massage at Green Chaya and discover how incredibly friendly the Sri Lankans are!
CHECK OUT MY STAY IN HIRIKETIYA
Dress appropriately in Sri Lanka, especially when visiting temples. I wore a t-shirt and long pants every day in Kandy. On the coast you can wear your summer dresses, but in Kandy and the North it is appropriate to cover up a bit more.


Appropriate clothing for Kandy.
Driver Shehan Croos (bell of whatapp): +94 77788577
His Instagram account: @travel_with_croos
Very good and kind driver. Next time I'll call him for my pickup from the airport! You can also hire him for several days. He is very helpful!
CLICK HERE FOR GREAT HOTELS IN KANDY
Check the best rates and availability at The Radh Hotel HERE.
Read my blog post about one of my favorite places in Sri Lanka HERE…