For a few years now, I have been dreaming away at the content on Salty Pelican Retreats' Instagram account. A friend of mine stayed at the beautiful retreat in Hiriketiya 3 years ago and came home blazing with enthusiasm. That's why I included Salty Pelican, with locations in Portugal and Sri Lanka, in my list of the best surf and yoga retreats in the world. This month, I finally checked into Salty Pelican Hiriketiya myself….
If you are Dutch and you are reading this blog post in English, just tap the menu button to change the language to Dutch!
This blogpost contains affiliate links, so I earn a small commission when you book through my website, at no extra cost to you! So thank you if you book your accommodation through my website!
The view from the yoga shala at Salty Pelican Hiriketiya
Hiriketiya is one of my favorite places in Sri Lanka, but because it is a small bay and the bay is becoming increasingly popular, it can feel a bit crowded. Dots Bay House felt busier than ever this year. Good for business, but not that great when you want to take a nap:-) As soon as I walk into Salty Pelican Retreat after my days in the north of the country, where I climbed mountains and temples, I immediately feel the peace.
My room is huge and fully equipped. I have a huge bed, a large rain shower with excellent shampoo and conditioner (hard to find in this country), a good coffee maker (also a one-of-a-kind), a kettle, a TV with Netflix and Amazon Prime, a large closet (unpack that suitcase!) and a large balcony with a hanging chair. The view of the pool and the monkeys jumping around in the surrounding palm trees is so idyllic. What a place…
ROOM ONLY RATES SALTY PELICAN RETREAT HIRIKETIYA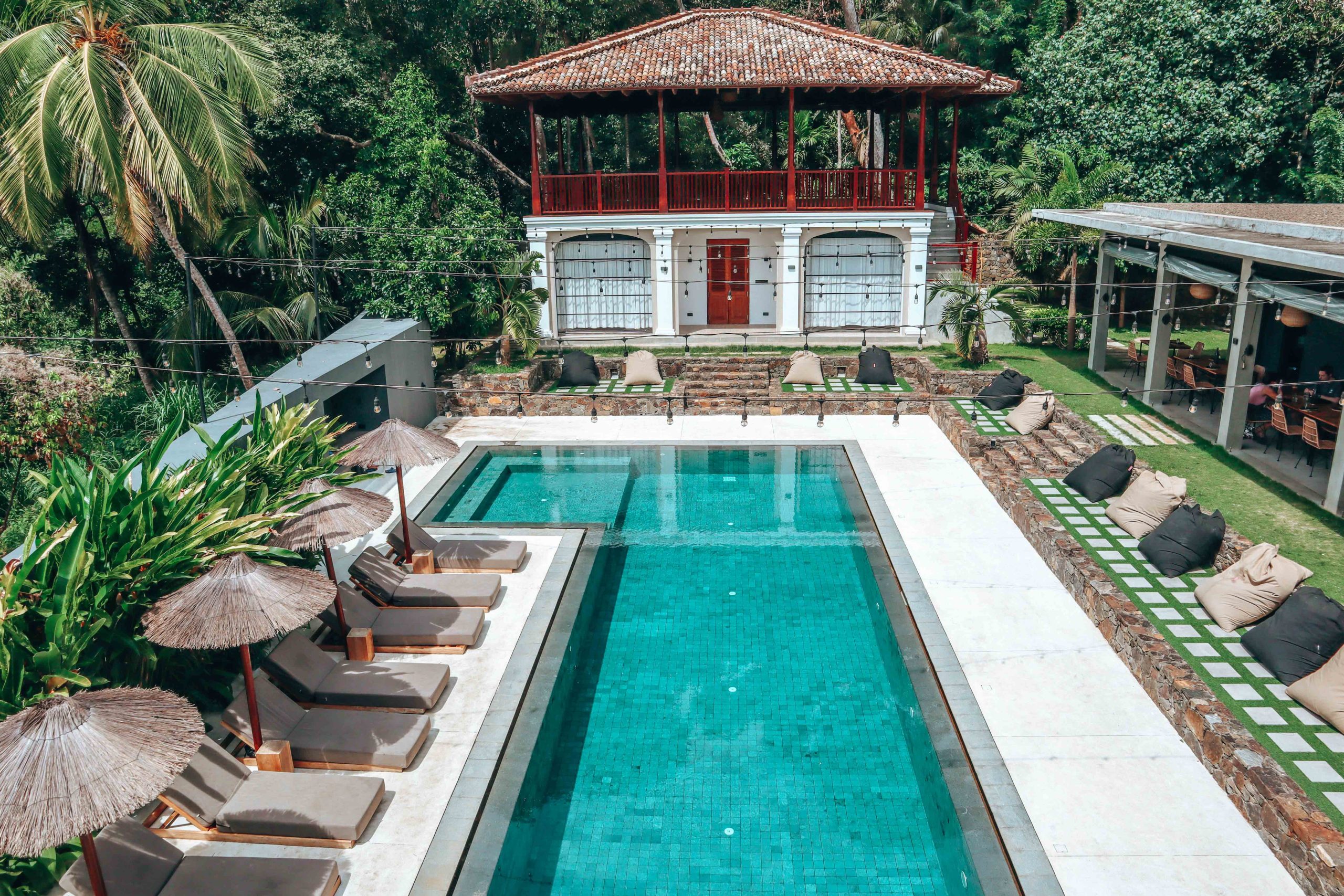 My huge room including some good shower products | Salty Pelican Hiriketiya
Since I also have to work, I regularly install myself in The Backyard; the restaurant at Salty Pelican Retreat. This restaurant is also open to visitors not staying at the retreat. The kitchen specializes in Mexican dishes and the tacos are famous in Hiriketiya. The cocktails are also dangerously delicious… Try a Coconut Martini! I had the best coffee of my trip here and breakfast is a feast; Shakshuka, French Toast and delicious Sri Lankan hoppers!
ALL MY HIRIKETIYA RECOMMENDATIONS


Salty Pelican Hiriketiya | surf and yoga retreat Sri Lanka
Every morning I go to a yoga class at 7:30 am. The yoga shala is across the pool. Here the sounds of the rushing tuk tuks fade into the background and all you hear is the rustling of the monkeys and the praise of a proud peacock, which regularly parades on the roof of the main building. I saw a peacock flying for the first time in my life! Honestly, I didn't even know they could do that…
I have not found a better shala anywhere in Sri Lanka. Carla's yoga classes are so good. Her voice is so soothing and I love her practice. Vinyasa classes are scheduled in the morning and yin yoga classes in the late afternoon. Carla burns lovely incense and at the end of class you will guaranteed feel better than how you entered the class. If you don't feel like yoga and surfing classes, just take a day "off" and relax by the pool.
MY TRAIN RIDE FROM KANDY TO ELLA


Restaurant The Backyard | Salty Pelican Hiriketiya | surf and yoga retreat Sri Lanka
When my social battery runs low, I retreat to my cool room and turn on Netflix. At home you need these breaks too and would also need your moments on the couch. When I first started solo traveling, I found it very difficult to take these breaks, because I always felt like I had to do something and didn't want to miss out on anything. Now I know that sometimes I need to recharge on my own. Speaking of recharging, they have a generator here, so you won't notice any potential power cuts! So you have fast WIFI, coffee and air conditioning here all day long. That's such a luxury in this tropical climate.
ROOM ONLY RATES SALTY PELICAN RETREAT HIRIKETIYA


The delicious breakfast | Sri Lanka tips and highlights
Many guests stay here for at least a week. You have breakfast together in the morning and dinner in the evening, and during the day you see each other at the yoga and surfing classes, creating a sense of community. Ideal for solo travelers. I made friends here who I ran into again in other places throughout the rest of my trip. Also, the girls (and guys) who work here are all so sweet and helpful. If you're a little nervous about traveling alone for the first time, book a surf camp or yoga retreat for your first week or days. Then you'll meet a lot of others right away and will not feel alone.


Restaurant The Backyard | Hiriketiya highlights | Sri Lanka
The best flights to Sri Lanka
I love to use Momondo #nospon to compare all my flight options. This website is the easiest to use and has excellent filters to find the flight you are looking for.
Staying at Salty Pelican Retreats is not cheap, but the yoga and surf classes are fantastic, the cuisine is top-notch and the rooms are so nice and fully equipped. After my stay here, I visited another retreat, but it couldn't quite match Salty Pelican Hiriketiya in terms of accommodation, yoga shala, coffee and restaurant. So I highly recommend this beautiful spot to anyone looking for comfort and community! I'll be back!
You can also book "room only" nights at Salty Pelican Retreats, without a surf and yoga package included. Check the link below for availability and the best rates.
ROOM ONLY RATES SALTY PELICAN RETREAT HIRIKETIYA
ALL MY HIRIKETIYA RECOMMENDATIONS
THE BEST SURF AND YOGA RETREATS IN THE WORLD